Regular price
Sale price
£25.95 GBP
Unit price
per
Sale
Sold out
Savour some spicy refreshment with our Pomegranate & Ginger sparkling CBD drink with 10mg CBD. Plum and apple amp up the fruitiness and Sarawak black pepper lends an exotic, full flavour. Ideal for those midafternoon moments when a coffee just won't cut it.
Ingredients

Water, Apple Juice From Concentrate, Beet Sugar, Plum Juice From Concentrate, Citric Acid, Natural Ginger And Pomegranate And Black Pepper Flavourings, Cbd Botanical Extract, Emulsifier: Soya Lecithin (Soya Lecithin Is Used To Make Our CBD Water Soluble)
Nutritional Information

Nutritional Value per 100ml
Energy: 61k J / 14kcal
Fat: 0.1g
of which Saturates: <0.1g
Carbohydrates: 3.6g
of which sugars: 3.2g
Protein: 0.1g
Salt: <0.01g
Tasting Notes

Spicy & Dry
With apple & plum, spiced up by Sarawack black pepper
View full details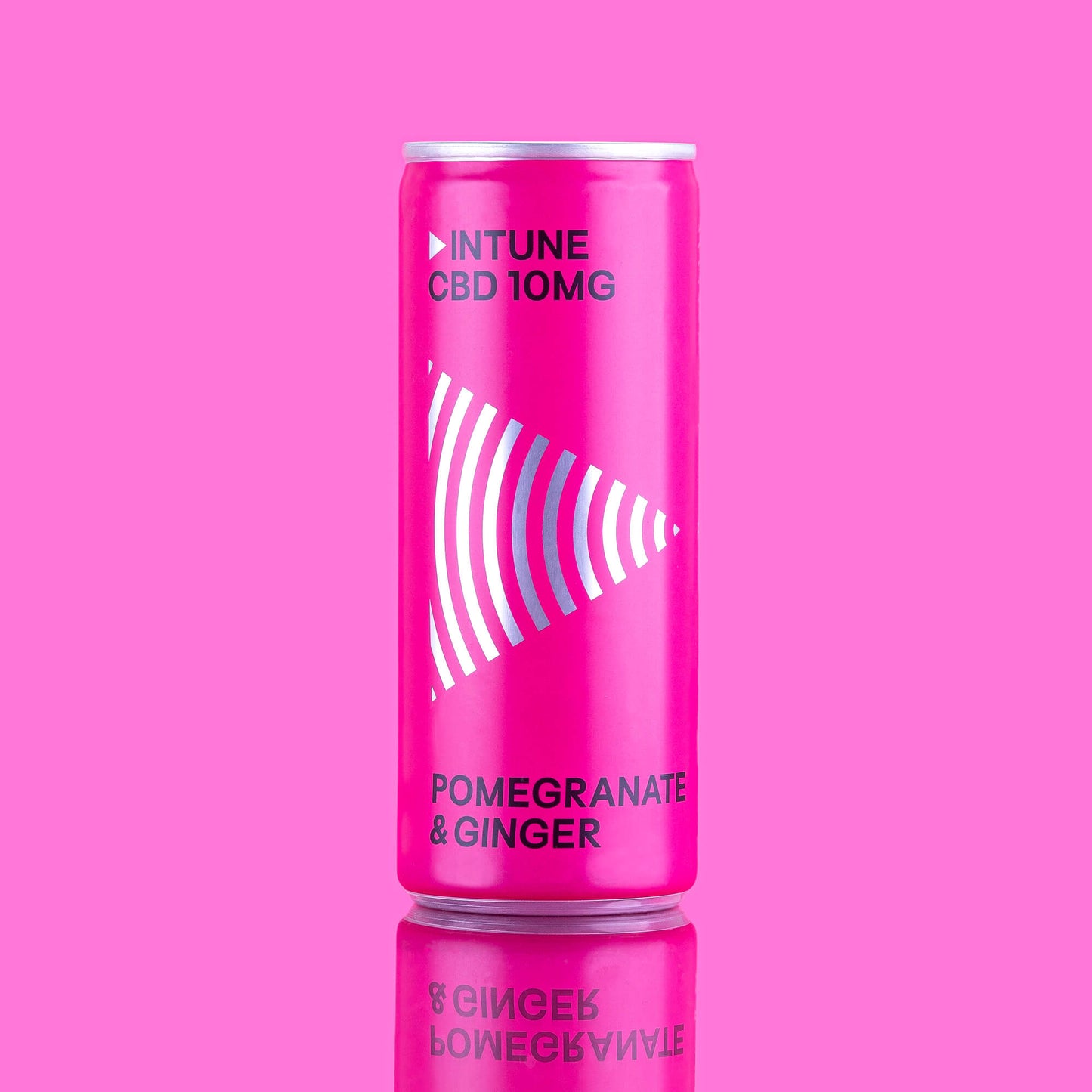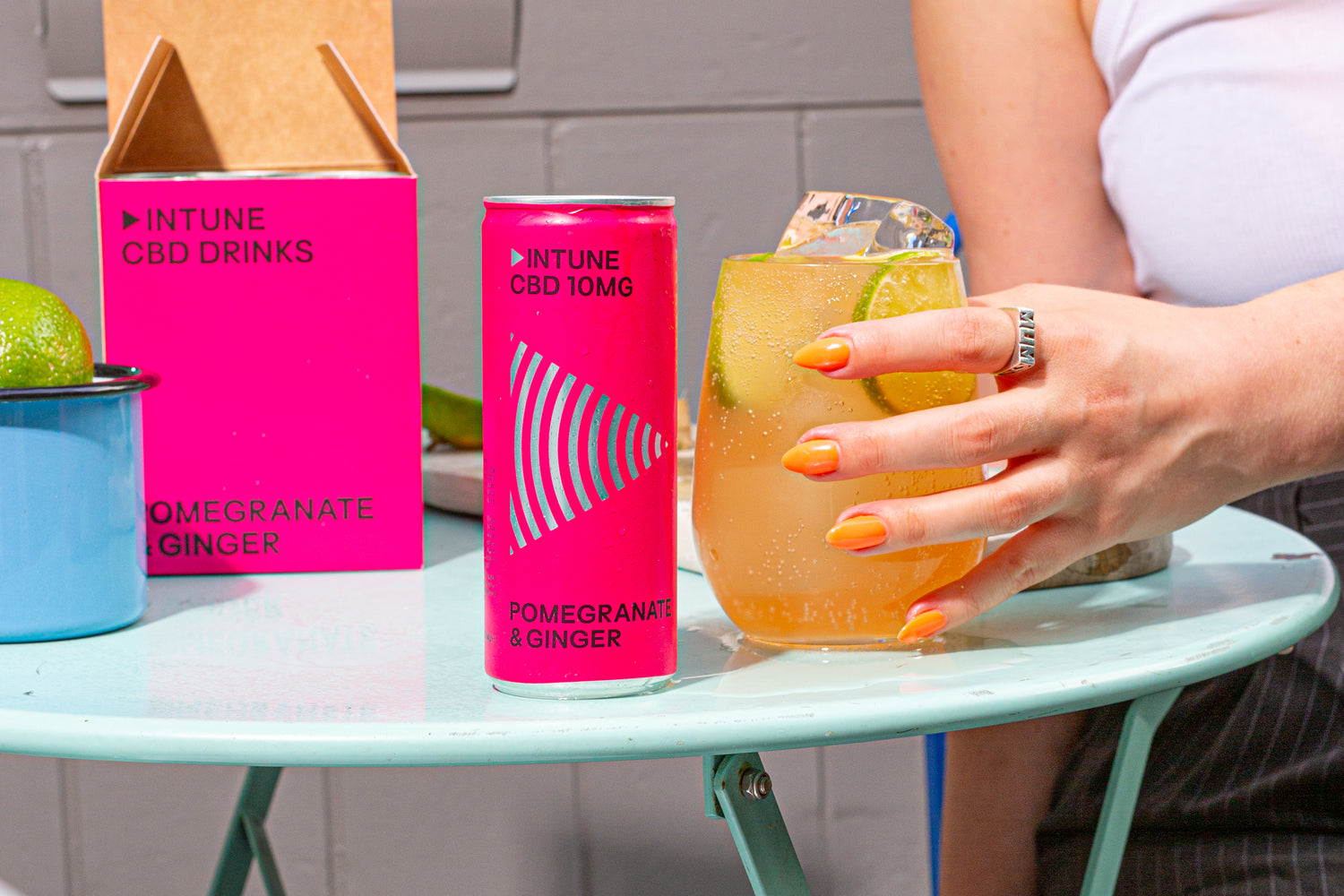 WHAT DO CBD DRINKS DO?
INTUNE CBD drinks are refreshing soft drinks with 10mg of high-quality CBD, that you can enjoy at any time of day. Unlike THC, CBD doesn't make you high or have any of the psychoactive effects. Drinks containing CBD are primarily designed as recreational items rather than nutritional supplements. They won't put you to sleep, but may still have stress-relieving effects on your brain. There is evidence that CBD may have a variety of potential health benefits, including those for stress, sleep, and improved focus.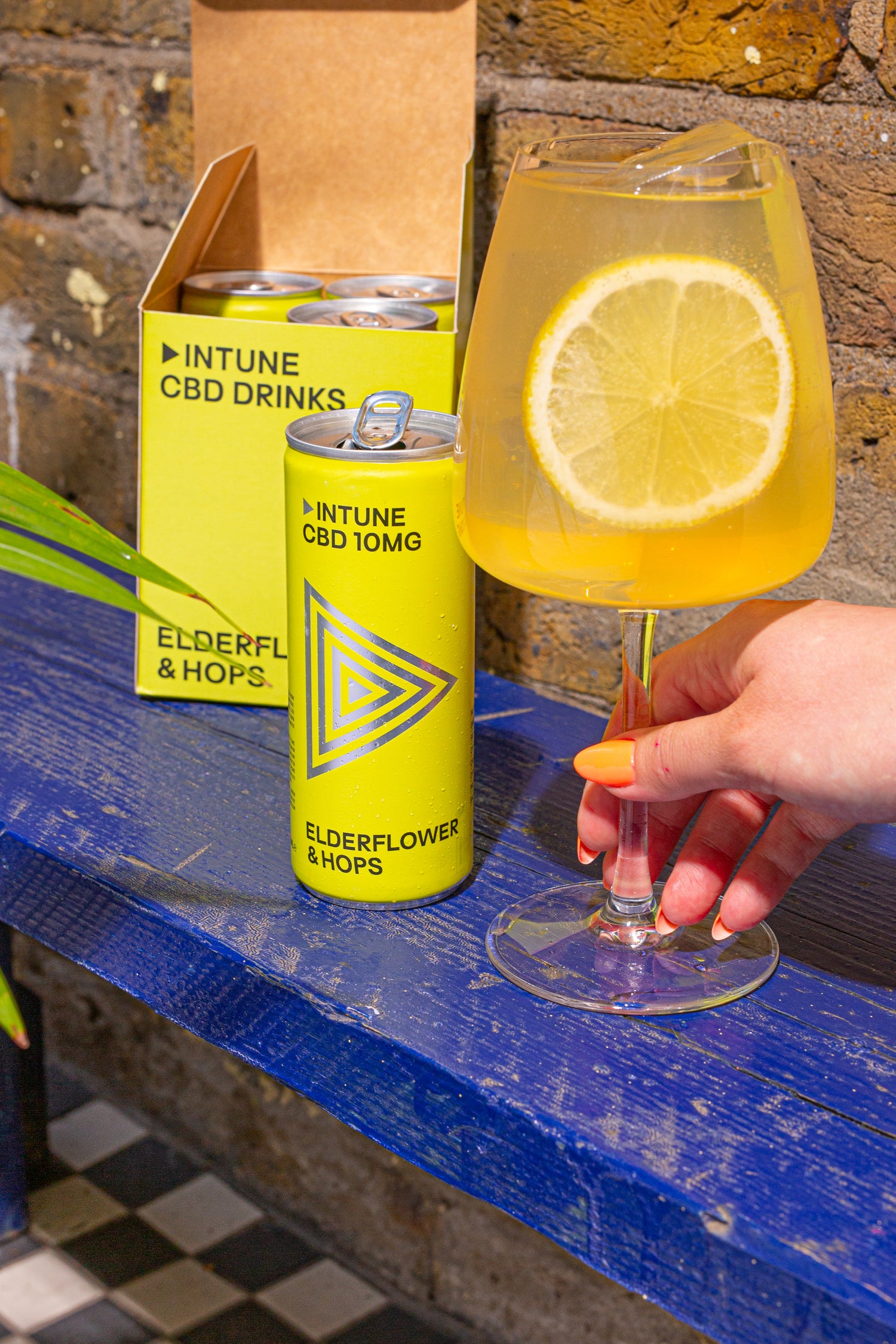 CAN YOU TAKE CBD WHILE DRINKING ALCOHOL?
The simple answer is YES! There is no evidence to suggest that CBD and alcohol cannot be taken together and is harmful. On the other hand, there is evidence to show that CBD "reduces the alcohol level in your bloodstream", so less drunk means less hungover! Also for people who want to space out alcoholic drinks for a long night or they want to level up a standard cocktail, CBD drinks are a great alternative! So you can eliminate any chance of a hangover whilst still sipping on a deliciously crafted sparkling drink.
Collapsible content
What is a CBD drink?

Our CBD drinks are all-natural, sparkling fruit and botanical soft drinks, infused with CBD. CBD drinks are a delicious and easy way of enjoying the benefits of CBD! CBD is an incredibly versatile ingredient that can make you feel many different things.  A lot of this depends on dosage levels.
What do CBD drinks do?

We love the effects of CBD drinks on our nervous systems through the day. We find that we're able to take on the day with fewer 'ups & downs' and by bedtime we're ready to chill.  That's why we have created INTUNE CBD drinks at a lifestyle dose of 10mg so we can have several through the day even in the morning. 
Can you take CBD while drinking alcohol?

Simply there is no evidence to suggest that CBD and alcohol cannot be taken together and is harmful. INTUNE CBD drinks can be great mixers, check out or favourite recipes!