Regular price

Sale price

£21.60 GBP

Unit price

per

Regular price

Sale price

£21.60 GBP

Unit price

per

Regular price

Sale price

£21.60 GBP

Unit price

per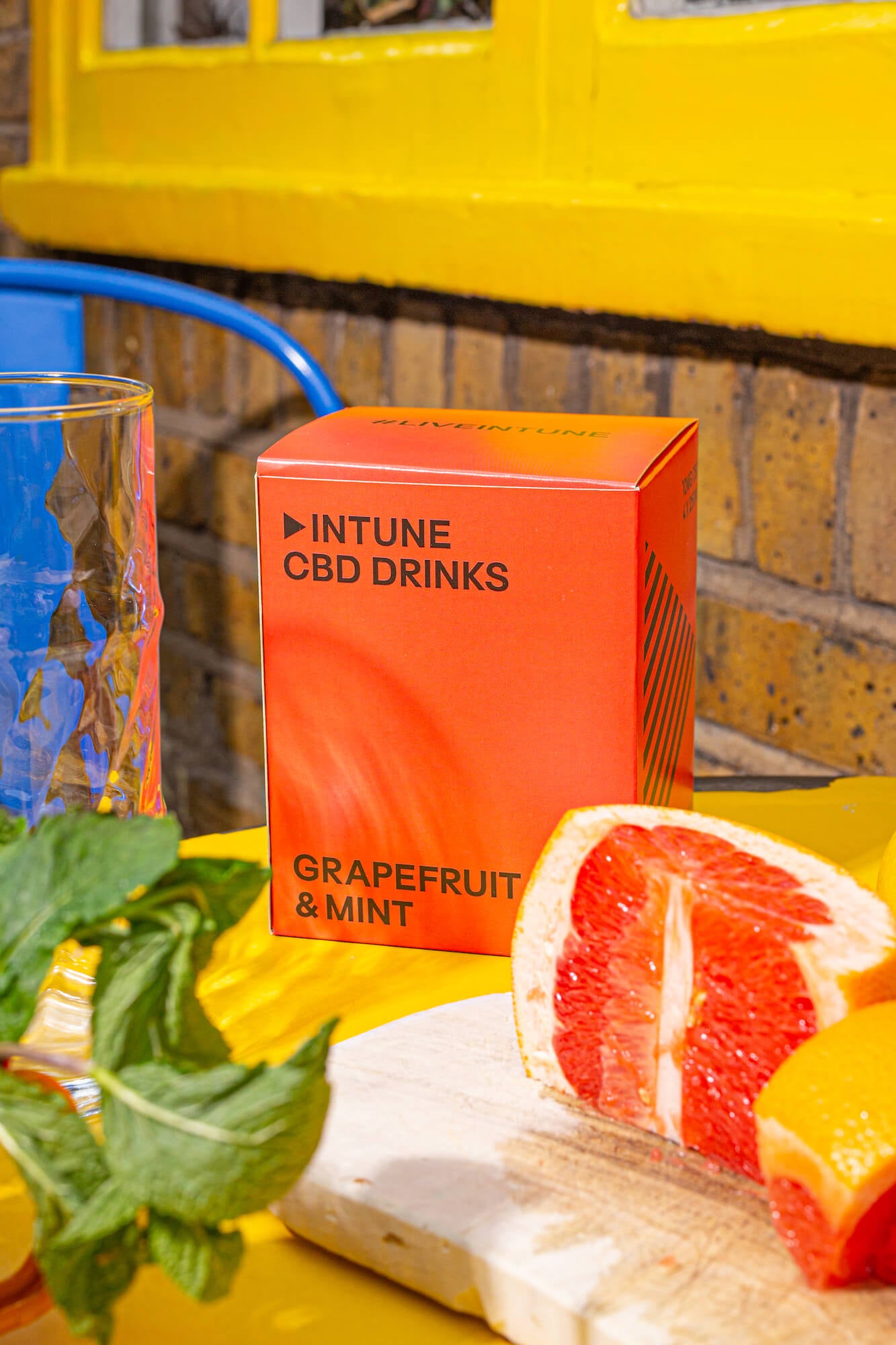 WHAT IS CBD?
CBD (cannabidiol) is the non-psychoactive compound found in hemp plants. Although hemp is part of the Cannabis family, marijuana/weed is a different strain of plant. Marijuana contains much higher quantities of the psychoactive compound THC. Our CBD is from hemp and grown naturally, outdoors by trusted and audited farmers in Colorado. It contains no THC so won't get you high. Instead, CBD works with your endocannabinoid system to help you feel focused, balanced or INTUNE.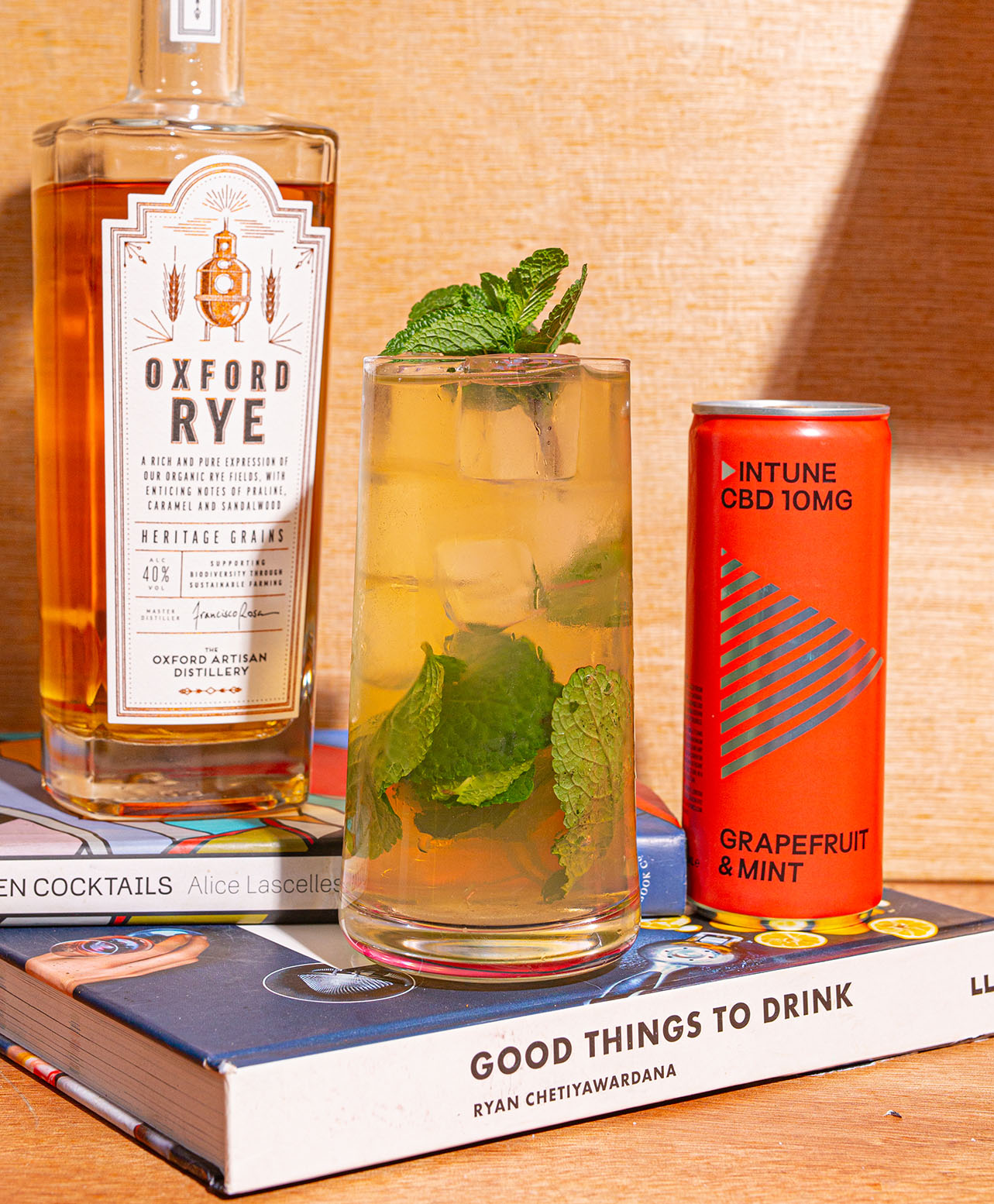 CAN YOU TAKE CBD WHILE DRINKING ALCOHOL?
Long answer short, YES! There has been no evidence suggesting CBD and alcohol cannot be consumed together. We serve delicious INTUNE CBD cocktails in bars, at festivals and events. Often mixed into simple highballs with a small measure of a sprit, or alcohol alternative over ice, topped up with INTUNE and finished with a garnish. Everything in moderation. 
Curious about how CBD and CBD Drinks can positively impact your life? CBD is a cannabinoid from the hemp, or cannabis, plant, which means that it interacts with your endocannabinoid sytem in your body. When the endocannabinoid system is functioning properly, it positively affects mood, memory, and sleep as well as some health factors like inflammation, the cardiovascular system, liver function, and the reproductive system. The endocannabinoid system also regulates a number of bodily processes, many of which are vital to maintaining good health. We enjoy CBD for many of the ways it impacts this system. 
But, let's get one thing straight - CBD Drinks are not weed drinks! You won't get high, but will experience benefits such as mental clarity, increased focus, a feeling of balance, reduced anxiety and improved sleep. The best way to find out what positive benefits you'll get from CBD is to try one of our INTUNE CBD Drinks, which can be enjoyed from desk to dancefloor to drive home.
Collapsible content
WHY INTUNE CBD DRINKS?

INTUNE drinks contain water-soluble CBD in a lifestyle dose that we believe is perfectly balanced to give you the best CBD drink experience possible! We brought together a group of taste experts to bring CBD to the world in delicious hemp drinks to help more people to find their focus. Our Original range of all-natural, vegan, sparkling fruit and botanical drinks.
WHAT IS A CBD DRINK?

INTUNE CBD drinks are delicious, refreshing soft drinks that you can enjoy at any time of day or night. They won't make you high, they won't make you tired and they won't give you a sugar rush. We have been awarded 5 Great Taste Awards for our drinks. 
DOES CBD GET YOU HIGH?

CBD is an active ingredient that comes from the cannabis plant. But that's where the association ends. CBD is NOT like its bad boy cousin THC which is the chemical within the cannabis plant that makes you high. All INTUNE CBD drinks are THC free. No highs here.
CAN YOU TAKE CBD WHILE DRINKING ALCOHOL?

There is no evidence to suggest that CBD and alcohol cannot be taken together and is harmful. INTUNE CBD drinks can be great mixers, check out our Recipes.
CAN YOU DRIVE AFTER TAKING CBD?

As CBD has no THC (the chemical within the cannabis plant that gets you high), there is no problem with taking CBD and driving.
ARE CBD DRINKS LEGAL IN THE UK?

Yes! CBD doesn't contain any psychoactive compounds, meaning it can't get you high and is therefore legal in the UK. Each can of our CBD beverages contains 10mg of CBD, which we believe is the perfect lifestyle dose per serving. As THC is the illegal element that makes you high, there are strict regulations about how much THC is allowed in CBD products. All of our tasty drinks comply with the maximum 0.2% volume allowed in the UK. 
WHAT ARE THE BENEFITS OF CBD DRINKS?

CBD interacts with your existing endocannabinoid system, which is as unique as you are. INTUNERS have experienced more clarity , focus or a feeling of balance. But it can also contribute towards inflammation, reduced anxiet and better sleep.